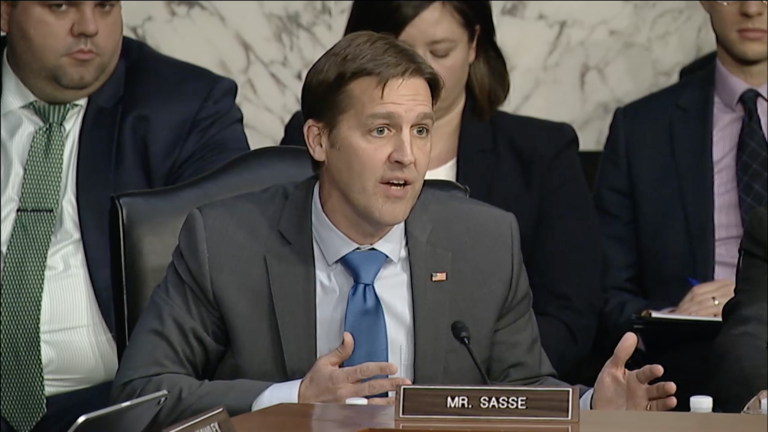 Video is available here or by clicking on the image above.

U.S. Senator Ben Sasse, a member of the Senate Judiciary Committee, questioned the Department of Justice Inspector General on the egregious failures of the DOJ's "Crossfire Hurricane" team that investigated the Trump campaign.

"This report found some incredibly troubling failures inside the FBI," said Senator Sasse after questioning Inspector General Horowitz. "We face a massive crisis of public trust in American life and the cultural failing inside the DOJ and at the FBI makes it worse. The men and women at the DOJ and FBI who care about rebuilding trust have a lot of work to do."

Senator Sasse pressed the IG on three of the Crossfire Hurricane team's inexcusable decisions that undermine public trust: the team's use of a defensive briefing as an investigative opportunity, the team's failure to follow FBI procedures and include relevant evidence in the FISA applications for renewed surveillance, and the team's use of former Associate Deputy Attorney General Bruce Ohr as a conduit for Christopher Steele's reporting despite the fact that the FBI had decided to drop Steele as an informant.

U.S. Senator Ben Sasse: "There are a number of things that are really troubling but some of them have been unpacked pretty fully, so far. So, I'm going to pick up some loose ends. Bruce Ohr, who is he and what's his role at the Department? And then let's ask some questions about the bizarre pathway by which he became involved in this investigation."

Justice Department Inspector General Michael E. Horowitz: "So, at the time of these events he was an Associate Deputy Attorney General and the head of the Organized Crime and Drug Enforcement Task Force working out of the Attorney General's office."

Sasse: "The Organized Crime and Drug Enforcement Task Force - and that's connected to election interference by the Russians how?"

Horowitz: "It is not."

Sasse: "What the hell is he doing here?"

The full exchange is available here.